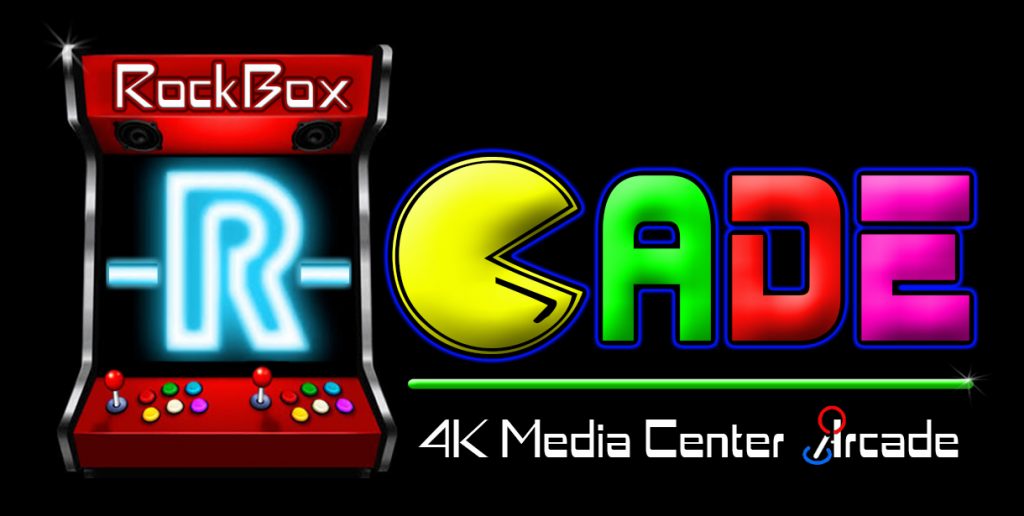 R-Cade is THE retro-gaming media center solution! It is a custom operating system INCLUDED and specifically designed to be shipped on all devices sold from retro-center.
Over 100 Retro-Gaming Systems
Lightweight Web Browser
Full 4K UHD 60fps Media Playback
Online Streaming
All FUN – No Work!
R-Cade has been developed specifically for compatibility with Rockchip hardware manufactured by our partners, such as Pine64.
In order to make R-Cade legal to distribute, the version of the software that's included on the hardware purchased from our store will need a network connection in order to be fully featured. After acknowledging a usage license, R-Cade will download and install an upgrade to it's fully featured version. Until that upgrade is performed, R-Cade is limited to media, music, pictures, KODI, and a lightweight web browser. This is done to avoid any licensing and legal concerns regarding shipping a product with video game emulators.
Feel free to follow our GitHub Page where you can download R-Cade releases and updates FOR FREE if you already have the hardware!
Why is R-Cade so AWESOME?
Familiar and Easy-to-Use User Interface
Highly customized EmulationStation front-end that does all the work for you
Over 100 Different Retro-Gaming Systems
Including all the big names from Apple, Commodore, Nintendo, Atari, Playstation, Dreamcast, and many others
Powerful and Versatile Media Center Solution
Music, movies, and pictures have all been integrated into the main user-interface. Plus, the latest version of KODI is also included and offers thousands of addons for music and media streaming, including as Netflix, Amazon, Disney+, and many more
Lightweight Web Browser
The ability to easily browse most websites with a simple web browser
Easy WiFi and Bluetooth
Our front-end makes connecting and remembering your hardware as easy as it gets
Plug-and-Play External Storage
Put all your games on a USB drive or SD card, plug it in, and they are automatically detected and appear – without copying any files!
Automatically Configures Every System
Unlike some similar software, the only config you need to do is make sure your buttons are mapped correctly ONE TIME and the rest is done for you
Netplay – Join your Friends Online
By integrating with Retroarch's netplay features, you can have friends join you over the internet as player 2, 3, and 4
Moonlight – Nvidia Game Streaming
If you have a an Nvidia GPU then you can stream your PC games to R-Cade
FOSS – Free and Open Source Software
All included applications are open-source and have been compiled directly from their source code and optimized for use with R-Cade
Custom Secure Setting Encryption
Secure settings, such as the SSH password or WiFi psk, are encrypted using a custom algorithm for an added level of security
Backup and Restore your Game Lists, Settings, and Meta-Data
All of your settings for R-Cade and your game lists, including game metadata and box art, can be easily backed up at any time! You can then restore them later, or copy them to another R-Cade box so you don't have to set them up again!
Control R-Cade with your TV Remote
Using CEC integration, if your TV supports CEC then you can use it to control R-Cade
All Systems Support Compressed Games
R-Cade will automatically detect any ZIP or 7Z compressed games and give you the option to extract them before they run. This can save a LOT of disk space, freeing up room for even more games!
What makes R-Cade different than other Retro-Gaming Software
Unlike some of the other retro-gaming distributions, R-Cade is not just software running on top of an operating system, it *IS* the operating system (OS). No need to worry about individual package upgrades or compatibility, we handle it all for you.
Plug-and-play external storage make adding games as easy as it can possibly get! USB or SD cards are both supported. Just copy your games into folders on the external device, plug it in, and R-Cade automatically detects the games. Plus, any game-saves, box art, and configs are also all captured on the external device so they seamlessly integrate with other R-Cade boxes.
Many options of retro-gaming software will download the source-code and compile everything on your device. This can take a LOT of time. With R-Cade there is no need to compile anything, all the work has been done for you to ensure it's optimized and fast!
Media has been integrated directly into the main user inferface for R-Cade. This means you don't need to open Kodi to browse and play movies, music, or pictures from your local library. You can use your own music collection as the main background music when browsing for games, and even randomize the play order.
Another benefit of the integration of media into R-Cade is that when you're not actively playing games, you can set your screensaver to be a slideshow of your local picture collection. This effectively turns your display into a digital picture frame.
Designed and developed for optimal performance and compatibility with Rockchip hardware provided by retro-center partners. Many distributions try and provide options for multiple chipsets and architectures, whereas R-Cade has opted to laser-focus on ARM's Rockchip chipsets, allowing for maximum performance.
A lightweight Web Browser is also included, allowing you to quickly search and browse the internet.
By optimizing Kodi for Rockchip, you can enjoy and experience full 4K Ultra-High-Definition (UHD) Media Playback at 60 frames-per-second (fps)!
Your TV remote controller will be able to control and navigate R-Cade if your TV supports CEC. Additionally, when you turn on R-Cade, it will turn on your TV for you, and when you turn it off it can turn off your TV at the same time. How convenient!
On many retro-gaming solutions, properly configuring the buttons on your gamepad can be exhausting! R-Cade will ask you ONE TIME how you want your buttons mapped, and everything is automatically taken care for you after that.
If you search the internet you will find that there are some other retro-gaming options available for purchase that include all emulators, cores, and even some that ship with games. Unfortunately, these solutions are not fully legal and these companies won't be able to provide long-term support or updates. R-Cade has been developed and distributed in such a way where we ARE legal and plan to be around for a long time to support all your retro-gaming needs!
The secure settings inside R-Cade are saved using a completely custom encryption algorithm, rather than saving them in plain-text like most other distributions.
For most (not all) systems, R-Cade offers multiple emulator options. Many games run differently using different emulators. This allows the user to select which emulator/core works best for each of their games, unlike some other distributions that only offer one option.
Once you have R-Cade all setup the way you want it with your personal settings, game lists, box-art, and meta data, you can backup all your settings so that you can restore them later or copy them to another R-Cade box!
The filesystem for R-Cade uses F2FS, which stands for "Flash Friendly File System". Other solutions utilize file systems that are not optimized for eMMC or SD, which are considered "flash media". By using F2FS, R-Cade can guarantee longevity of the lifespan of these devices.
Systems Carousel and Custom Theme
Gameplay Footage
High Definition Media Playback
FAQ / Tips and Tricks
How do I setup R-Cade for the first time?
When you first connect HDMI and power you will enter the user friendly and familiar interface of a highly customized EmulationStation. If you don't have a gamepad connected you can still use the PineRemote or a keyboard to navigate the system and the menus. Once you plug in (or pair via bluetooth) a gamepad you will be prompted to configure the buttons. This is the one and only time you'll need to map your buttons, as they will automatically be set in all emulators for you after this. And if you make a mistake or want to change a mapping later, you can always change the button assignments later in the controllers menu.

To avoid any licensing and legal concerns regarding shipping a product with video game emulators, R-Cade's features are initially limited on the version included with the hardware purchased from retro-center. To enable all features you will need a one-time network connection to download an update. After agreeing to a usage license, an update will be downloaded and installed to unlock the fully featured version of R-Cade. Until that upgrade is performed, you will be limited to media, music, pictures, KODI, and a lightweight web browser.
How long will the initial upgrade from the take to enable all the games and emulators?
The time to download the upgrade will depend on your internet connection and how many new updates have been released. Upgrade file sizes will range from 50MB to 700MB. Once your upgrade download completes you will be asked to reboot to install it. It will take less than 2 minutes to prepare the upgrade and then RCade will reboot to perform the installation. The install process will take less than 6 minutes. The overall upgrade process should always complete in less than 10 minutes after the download has completed.
What are all the different included systems?
The list of supported systems by R-Cade is pretty long, and we plan to add even more in the future updates! Take a minute to watch the Systems Carousel video above to see the currently available systems in the main list.
How do I add games?
There are a few ways to add games to R-Cade. The easiest (and therefore recommended) way is to plug in a USB drive or SD card and tell R-Cade to prepare it. This will not remove anything on the external device, it will only create folders and copy existing configs and files from R-Cade to the external device. After it's prepared – just unplug it and copy your roms into the folders that R-Cade created. When you plug it back in – the device will automatically be found and scanned by R-Cade and all your games will show up automatically. There are text files in all the roms folders that list file extensions for each system and options for configuring the system.

Another way to add games is to browse to R-Cade's shared network folders using SMB (Samba). Then you can copy and paste your games directly onto the internal storage. The downside of this option is that you are limited by the size of the internal storage.
Why aren't there more included games?
Unfortunately, due to copyrights and legal concerns, most games cannot be legally distributed. Doing so would inevitably lead to a cease-and-desist order from various companies that hold the rights to these games.

While you may find some similar products from other sites that are available for purchase WITH games – these products are violating these copyright laws and will not be around forever. These companies are usually quick cash-grabs and cannot offer long-term support for their products and services.

Retro-Center plans to be around a long time! We want to provide all our customers with long-term support and in order to do that we have taken every possible step to avoid violating any laws or licensing agreements.

The only guaranteed legal way to obtain a game for a system is to "rip" (or copy) the game from a cartridge / disk that you already own. There are various inexpensive hardware options available online that you can purchase to do this.

There are some games which CAN be legally downloaded and distributed – these are usually authored by the community and referred to as "homebrew" games – although sometimes permission is still required from the author to distribute these. Some have been already included in R-Cade, and we may add more over time!

While Retro-Center cannot legally condone the use of games acquired from any other source, such as Googling the name of the game with the system and "rom", we CAN confirm that valid ROMS from any source are 100% compatible with R-Cade!
Can I control R-Cade with the Pine Remote or the Keyboard?
YES! R-Cade includes predefined button mappings for both a normal keyboard and the Pine Remote. The ability to switch between these mappings is found under the UI Menu. You can also quickly toggle between them at any time by pressing the power button on the pine remote 6 times or hitting escape on the keyboard 6 times.
How do I exit games?
The usual defined button combination to exit is pressing the defined hot-key and start at the same time. If you have a keyboard connected, escape will sometimes exit the game as well.
How do I save / load my game at any time?
Most (not all) systems allow you save and load your game state at any time! That's right, you don't need to wait for the game to give you a save point!

To SAVE your game state – press the defined hot-key (usually "select") with West (usually "Y") at the same time.
To LOAD your saved state – press the defined hot-key (usually "select") with North (usually "X") at the same time.
How do I pair a DualShock 3 (Playstation 3) Controller over Bluetooth?
DualShock 3 controllers do not broadcast their Bluetooth address, so they will not show up when you scan for available Bluetooth controllers to pair.

However, R-Cade has been developed to make this process as simple as possible! Simply plug the controller directly into R-Cade using a USB cable for about 15 seconds. The controller will be detected and it will be auto-paired with R-Cade for you! Unplug the controller from USB and the next time it's activated R-Cade will connect it.
Awesome Background Music! Where is it from?
The included background music for R-Cade is based on music by Eric Matyas (www.soundimage.org
My game is telling me to insert a coin
Some of the emulated systems support games that were found in arcades and expect coins to be inserted before you can start your game. For these systems, you can insert coins using the select button.
My game / rom doesn't start
A game not starting can be due to a lot of different things. The BIOS being missing, an incorrect config, a bad/corrupt ROM, or sometimes the rom is meant for another system. Here's some tips and things to try…

Some N64 games are picky about memory paks and rumble paks. If your N64 game just starts to a black screen and your selected emulator is one of the mupen64 cores (which the default is), try hitting L3 or R3 to enable/disable them (respectively) at the black screen. This often will allow the game to start. One game I've seen this behavior with is Killer Instinct Gold. If you are using a retroarch core (the name starts with "lr-") then you can press the hot-key (usually select) and South (usually "B") at the same time to enter the retroarch menu and change the core options
My game / rom is running really slowly or the graphics don't look right
A lot of different things all play a part in how a game starts and performs. The selected resolution, the selected emulator, if you've included the right BIOS for the system, the speed of the device the rom is on, and even the rom itself.

The very first thing to do is check if you have added the right BIOS for the system. Just to give an example, Need for Speed on Playstation runs terribly slow if you haven't added the Playstation BIOS. With the BIOS installed it runs at full speed.

Additionally, not all emulators and cores are created equal. Different games will run better on different cores. And some games will need to use slightly different configuration settings in the emulators.

To try different emulators and cores for a game, press the select button with the game highlighted. You can then choose a different default emulator for all games for this system, or choose a different emulator just for the selected game. You can also try selecting different resolutions for the system and game from this same screen to see how it affects performance.

In many cases you can adjust the configuration settings of an emulator by pressing the hot-key (usually select) and South (usually "B") at the same time, but not all emulators offer an interface for their configuration settings. In these cases, you will need to adjust the configuration files using a text editor. If you're using an external device then these configs are located on that, otherwise you will need to browse to R-Cade using it's network share to adjust the config files.

Most games on most systems can eventually be configured to run full speed with the right core and settings, but there may be some exception where the game is simply too demanding for the hardware. R-Cade does offer an overclock option (in some releases) to help in these uncommon circumstances, but be advised that overclocking will void your warranty and increases the chance of damage to your hardware.
I found a bug or I have a feature suggestion
We want to hear from you!! You can use our Contact Us section for any ideas or suggestions you might come up with, and if you've found a bug or a glitch, please submit it to our GitHub Issues Tracker!
COMING SOON!
Video walk-throughs for features and functions
More FAQ and Tips and Tricks:

How do I use Netplay?
WiFi Connection Instructions
Bluetooth Controller Pairing
4K Playback is Choppy
Backup and Restore my Settings and Gamelists
How to install Upgrades without Internet Connectivity