With Raspberry Pi being a household name, it makes sense that everyone will ask themselves this question when they first hear about Pine64 and it's amazing products. Retro-Center selected Pine64 as a partner due to their competitive performance and pricing, so let's talk a little more about that!
One difference is that Raspberry Pi has a paid, dedicated development team to support software for all of their products. All software at Pine64 is community developed and supported. There's pros and cons of both, but this means if you need help or have questions then you don't have to wait for tech support to make time for you. Instead, there is almost always someone available in the Pine64 community on various chat platforms that can offer some guidance.
You may come up short if you looked for any comparisons on the Rockbox vs Raspberry Pi. The RockBox is a Pine64 product with virtually identical technical specifications to their Rock64 single board computer (SBC). So here are some great resources that compare the Rock64 with the Raspberry Pi.
PC Mag – Rock64 beats Raspberry Pi on Price and Performance
SBCFinder – Rock64 vs Raspberry Pi 3B
YouTube – Showdown: Rock64 vs Raspberry Pi 3
Technical Specs Comparison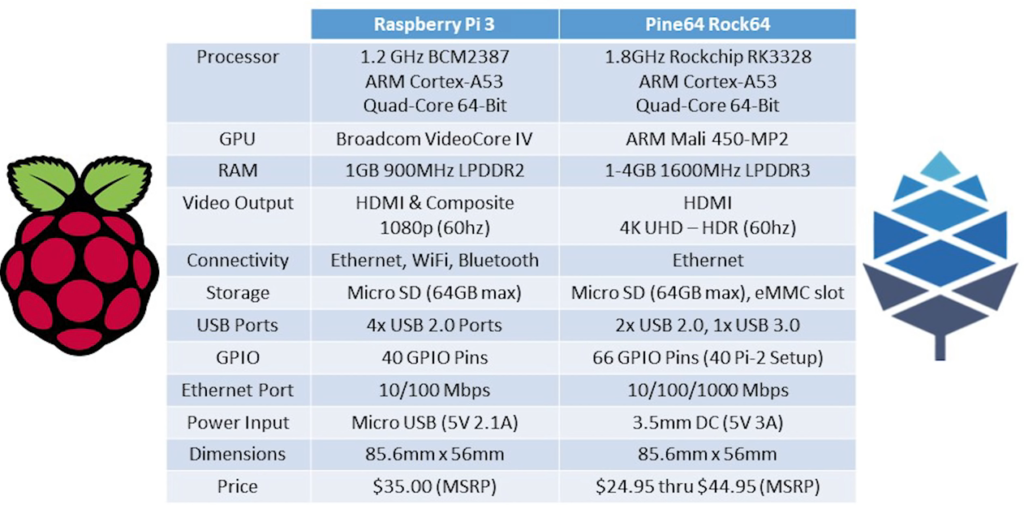 Advantages of the Rockbox / Rock64
There are some specific advantages of choosing a Rockchip solution (Rockbox / Rock64) over a Raspberry Pi 3.
The ability to support 4K media players with UHD at 60fps
The Rockchip CPU runs at a higher freq (1.4Ghz vs 1.2Ghz) and also benchmarks faster than the Broadcom process in the RPI
Both Rockchip options support HDMI 2.0
Both Rockchip options include a USB 3.0 port
What about the Raspberry Pi 4?
The RPI 4 is a newer product than the listed Rockchip boards above. Therefore they are more in-line with the technical specs of newer Pine64 products like the RockPro64 or the Quartz64. The future of Retro-Center certainly will include updated hardware with newer and faster specs, but we have to start somewhere!
As an aside, even the new Raspberry Pi 4 can only do 4K playback with H265, whereas this limit does not exist with the Rockchip hardware provided by Retro Center.
Why should I buy a Rockbox?
With R-Cade, Retro Center has been able to optimize the performance on the Rockbox / Rock64 to a point where we can offer excellent and impressive benchmarks on emulators and cores! With the hardware we currently offer there should be very few games where users are unable to achieve full emulation speed using the right settings, and when we eventually do offer upgraded options we will be able to offer even more, newer systems! Exciting, right?!
In summary, if the listed advantages in the last few sections above aren't enough to convince you to pick the Rockbox over a Raspberry Pi, perhaps the most convincing point is that R-Cade will only be available for boards sporting a Rockchip chipset. If you don't know why this is important, go read all about why R-Cade is so awesome!
Game ON!